WinDisp Documentation
WinDisp is a Windows based program designed to display a variety of geophysical and geochemical data, produce plots of the displayed data and convert data between formats required for a variety of other software packages.
Starting WinDisp for the first time
When WinDisp is started for the first time, you will be prompted to enter your user and company name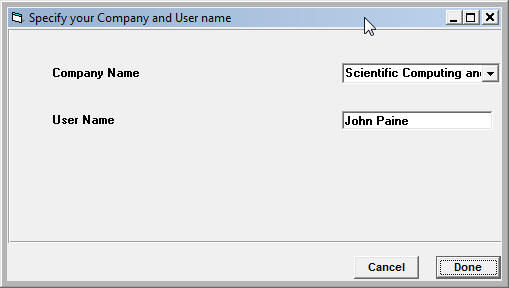 If your company name is not included in the drop-down list, simply type it in. The user name is taken from the computer name and can also be changed if required. These fields are included in any plots you create, but can be changed if required.
After the names have been specified, WinDisp will check for the presence of a dongle licence key. If none is located, you will then be prompted to enter an access key to enable the full program functionality. The form for loaded the key looks like this: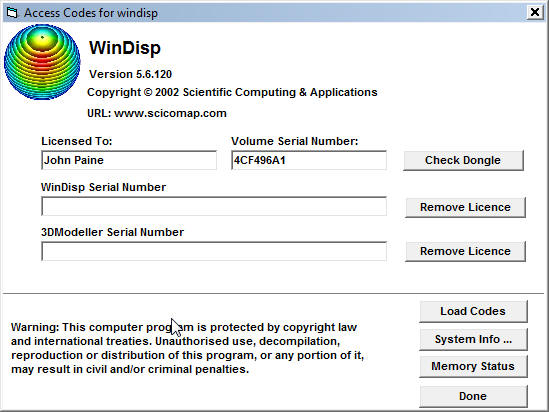 The access key uses the volume serial number displayed on the form (this can also be found by starting a command prompt and entering the VOL command). Once you have been supplied with a key, save it to your hard disk, click on the Load Codes button and then open the key file. The form will then display the access keys and full functionality will be enabled.
Getting Help
If you encounter any problems installing or running WinDisp, please do not hesitate to contact John Paine on 61-8-82723884 for assistance. Many problems can be solved over the phone, but if this is not convenient due to time differences or telephone access, the best way to get the problem solved is to email a description of the problem and a (small) sample of the data which is causing the problem. Email can be sent direct to John Paine on john.paine@onaustralia.com.au.